Attic Cleaning and Insulation
Back To Our Services
In order to perform proper and efficient attic cleaning we need to understand how attics affect our homes as follows below. Less temperature control and loss of energy can indicate that the main problem lies in your attic. Isolating the room can help you save power and money. There are many types of services to choose from so it's easy to get confused - but we at Air Duct Cleaning Castro Valley, CA, can help you understand and choose the best solution for your home or property! Let our team of experts guide you through the process!
Insulation and Cleaning – Keeping Things under Control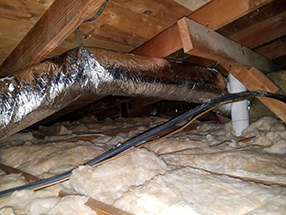 The attic is one of the most unattended rooms in most houses. You cannot sleep calmly at night if your attic is not well taken care of, for many reasons, but especially due to loss of energy and climate control, humidity damages, and animal problems. When you're about to move to a new home it is essential to make sure the attic is insulated and that the insulation is in good working order. If it's less than that, it is advisable first to remove the old material and only then to put in new insulation.
Attic Cleaning
The attic can be a very dirty and dusty place, especially if you haven't used it for years. Also, it can be a cemetery for rats, mice and birds, allowing bacteria and disease into your home. Keeping the attic clean and deterring rodents from taking over can prevent many issues, including health related issues. That's why cleaning services will create a healthier and more pleasant environment to live in, both for you and your family.
Professional Decontamination
Ever heard about Hantavirus? Hantavirus is an illness carried by rodents, which you can catch if you come in contact with the urine, feces or saliva of the rodent. Its effects on the human body include headaches, fever, chills, vomiting, diarrhea, muscle pains and more. All these are very unpleasant symptoms that can only be prevented by thorough purification, performed by professionals. Decontaminating your attic and crawlspace will create a healthier home, no doubt.
A Job Well Done
Don't waste time! Leave your attic problems to the professionals. We will deliver all expert services, making it clean, healthy and shinning once again.